Romantic Vacations

From exotic romantic vacations to cheap beach holidays, romantic honeymoon vacation spots and other romantic adult getaways, be sure to check out our romantic travel destinations. How about a romantic spa vacation?

How Romantic Getaways Can Resuscitate Your Romance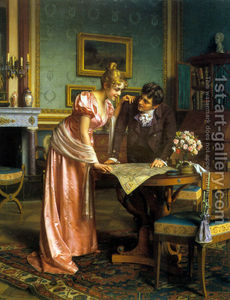 Romantic Vacations are a necessity for rejuvenating and preserving the romance in a love relationship. But don't worry. You don't have to break the bank to enjoy the benefits of a break in your schedule.

Simply changing your daily routine and refreshing your Romantic Attitude can go a long way toward igniting new passions and putting a fresh face on your romantic lives together. One of the easiest ways (and the most fun) is to schedule a romantic getaway as often as possible!

Romantic getaways can be anything from exotic romantic vacations in far-off lands to spending the weekend at a local B and B, pretending to be a tourist in your own town. (D. and I did that to celebrate my birthday last spring. It was super fun and romantic too! We did all the things we never take the time to do around Ashland. What a blast!)

Deciding what qualifies as "romantic" in a romantic vacation is a personal thing and not the same for all couples. There is no end to the possibilities. Here are just a few ideas to get the juices flowing:


The Beach: Few people would argue with the sex appeal of sun, sand and surf. Be it your local lake or seaside or the white sugar beaches of romantic resorts in the Caribbean- It's ALL good!



The City: Of course, this is most effective if you don't actually LIVE in a city. Us "country-folk" find a romantic getaway to "The Big City" to be very fun and full of romance possibilities.



The Mountains: Crisp mountain air, breathtaking vistas, chilly nights and cozy fires make for memorable romantic vacations.



The Ship: There are very few people who don't enjoy the lavish pampering to be found on a cruise. From the Pacific and Atlantic Oceans to the Mediterranean and Baltic Seas, (sounds like a Monopoly Game!) you can eat your way across almost any body of water you can imagine. (they really DO feed you!). Consider cruising the rivers of Europe and the UK, too.



The Spa: Ahhhh, one of my personal favorites! A luxurious romantic spa vacation can transform your wellbeing at the same time it rejuvenates your "romanciness". Yumm!



The Train: Travel by train can be a romantic vacation in itself. From Amtrak to The Orient Express: ChooooChooo! Coochie-Coo!



The Resort: The All-inclusive Romantic Resorts make it oh-so-easy to kick back and have a sensuously romantic time.



The Sites: Visit historical, artistic, famous and infamous locales. Be a tourist! Wear plaid shorts! Take lots of pictures!



The Road Trip: A holiday on wheels! Take a romantic excursion by car: touring vineyards, breweries, gardens and more. Stay in local inns and B and B's.
Have A Great Story About Your Romantic Vacation?
Do you have a memorable story about a romantic vacation that you have taken with your beloved? Share it!
What Other Visitors Have Said
Click below to see contributions from other visitors to this page...

White Rock Resort Romance

I had a romantic birthday at this really cool place on the southern Oregon coast. It is called White Rock Resort and it is located near the little town …

Coffee Cafe Not rated yet
Coffee Cafe is one of the best resort. At coffee cafe where i and my sweetheart have shared idea and sweetheart popped the question and tie the knot.



Romantic travel destinations can be found in a number of ways. The internet makes it easy. Check out the links below for sites that can help you shop around.



Excellent-Vacation-Ideas.com

Check out some great romantic vacation ideas to inspire your choice for your next vacation. Isn't it time to recharge and enrich your relationship? Explore

Excellent Vacation Ideas

for vacation stimulation!






---