Why I'm Building This Site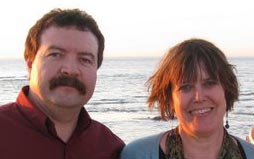 People ask us all the time how we manage to have such a great relationship. We live and work together (and have for 12 of our 13 years together!) and we never cease to delight in each other's company.

We are together 24/7. We never fight and only rarely disagree about anything. We truly love our life together.

How do we do it?

We think it's simple. We just expect it to be fabulous AND IT IS!

Nobody believes us.

So I decided to create a website bursting with romantic ideas and romance tips to help show the world that Life CAN Be a Honeymoon. And filling your world with Fairy Tale Romance is EASY and FUN!

I hope you enjoy romantic paintings. I'm a collector of Romantic Art myself, so you will find the site full of it! Eventually every picture will be a clickable link taking you to purchase options...
Who the Heck is this "Romance Goddess" anyway...?
I've always been a true romantic at heart.
I think it all started for me with the movie version of The Wizard of Oz. Every Fall there was a special television showing of it. My family would make an occasion out of it and invite friends over for dinner.

I have early memories of sitting on the floor with my plate balanced on my lap, eating spaghetti with sauce and buttery garlic bread, scared out of my wits! Once I got over the terror of The Wicked Witch, I began to appreciate the finer points of the story.

For me, it had romance, not in the classic sense of love and marriage but there was something very romantic about Dorothy's dreaming and wishing. When Judy Garland sang "Over the Rainbow" my heart was carried along with the sweet nectar of yearning and I got to dream with her about my own delicious future.

All I needed was some ruby slippers...(with cotton anklets!)



Wizard of Oz
24x36 Wall Poster
Buy Romantic Art From Art.com
My friends and I also discussed who was the most appealing of her companions. Who would WE choose, the sweet and smart Scarecrow , the big hearted Tin Man or (my personal favorite) the furry, cuddly, secretly brave Cowardly Lion? (A few years later it was John, Paul, George and Ringo...)
But that was only the beginning of my insatiable "appetite" for romance.
Sunrise over Ruins of King Arthur's Castle
Richard Nowitz
40x30 Photograph...
Buy From Art.com
We had the soundtracks to many popular romantic musicals. The songs and musical scores never failed to transport me into the exciting and passionate world of romance.

How could Guinevere ever choose between dashing Lancelot and puppy-eyed Arthur? I imagined my own Camelot replete with the requisite knight in shining armor.

I became My Fair Lady, the belle of the ball in one of my favorite rags-to-riches stories. Dancing around my room with my stuffed monkey, I COULD Have Danced All Night, swooning to the oh-so-romantic On The Street Where You Live.
MORE Romance
I wasn't alone in my love of musical romance. One of my best friends and I would learn and perform songs from The Sound of Music (You Are Sixteen), The King and I (Shall we Dance!) and The Music Man (Goodnight My Someone…!)

We knew that the arrival of Prince Charming was merely a matter of time…



Gone with the Wind
24x36 Fine Art Print
Buy Romantic Art From Art.com
I remember being swept away at the age of 12 or 13 with the passions of Rhett and Scarlet in Gone with the Wind. It was a rainy afternoon matinee in Astoria Oregon.

The old theater was practically empty. So enthralled was I, with the story, I think I completely ignored my Milk Duds AND the pimply face, sweaty hands and hesitating advances of my "date", whoever he was…

And MORE Romance
I began to read romance novels. Gobbling up historical romances, gothic romances and modern romance novels alike; I couldn't get my fill. Bodice-Ripper? Lemme at it!

I read most of Shakespeare's Sonnets as an independent study project in high school and sampled other romantic poetry. I even wrote my own romantic love poems. (Ya gotta love teenage angst!)

The Outlander series by Diana Gabaldon is one of my all-time favorites; the perfect blend of history, time-travel, smart heroines, lusty sex and men in kilts! And for all of you women out there who identify with Claire, I can state unequivocally that there ARE Red Jamies to be found in this world, I should know, mine is named D. and I for one, couldn't be happier! (more on MY True Romance )
So, you can see that I am a Romantic Glutton. I hope you enjoy cavorting on this site and discover plenty of inspiration and ideas to TURN UP THE VOLUME on your own True Romantic Adventure !
In Joy,


Sara McGoodwin, B.F.A.


Chief Executive Romance Goddess


Creatrix, Fragranceur, Colorist


Certified Laughter Yoga Instructor
Oh, so you want to know a bit MORE about me?
Well, I create websites, write descriptive vignettes, appreciate art, design incredible bath products, listen to the blues, collect teapots, pet my cat, like to stay positively focused, sip single malt scotch, create content-rich web pages, soak in the tub with delicious bath concoctions and travel the world at every opportunity.

I make up great product names and concepts, watch my chickens, cook and eat (and enjoy!) plenty of dark leafy greens, keep on the sunny side of life, design essential oil perfumes, laugh at nothing, collect tarot cards, garden organically, raise wild rabbits, read books and sing.

I want to learn to play ragtime and honky-tonk piano and blues harmonica.

I wish I typed faster, exercised more, meditated more, swam more and went horsebackriding regularly.

I believe in the Law of Attraction, that people are essentially good and try to do their best with what they've got, that the world is not "broken", that peace and joy come from within, that everyone needs to find their own path, that you can't push the river, that I create my own reality and that All Is Well.

I am inspired by intellectual discussions, small children, wondrous diversity and variety, Mother Nature, the English language, the teachers Abraham-Hicks, Mike Dooley and the Universe and a nice cup of tea.



Flaming June, c.1895
Frederick Leighton
27x27 Fine Art Print
Buy From Art.com
I love to hike, buy perfect gifts for people, walk on the beach, dance with reckless abandon and sleep when I'm tired.

I have 2 grown (and gone!) children, several cats, a delightful (and handsome) partner, a house-in-progress, a fragrant plant collection, an amazing soul-mate (handsome too), beautiful land and plans to build a 5 story castle.

And did I mention my handsome fiance?
What I Do Best (In Addition to Romance!)
I'm good at predicting trends, lateral brainstorming, marketing and advertising ideas and conceptualizing-especially when it comes to websites. I have a creative imagination and good visualizing and copy writing skills.

I'm friendly, positive and supportive of others. I love to encourage people achieve their dreams, be their best selves and live their lives with happy focus and positive intention.

I am appreciative, dedicated, honest, artistic, intelligent, reasonably thoughtful, funny, witty and pretty clever.

I'm a good dancer, a loyal friend, an articulate conversationalist and I do have my own unique (perhaps eclectic) style.

I also make a delicious smoked seafood chowder, a tasty curry and a particularly twangy lemon meringue pie.


Dance at Bougival
Pierre-Auguste Renoir
18x38 Fine Art Print
Buy From Art.com
Experience(s)
In the past I have acted-directed-written-designed costumes-sets-makeup for the stage, homesteaded on 20 acres, driven a pea harvesting combine, displayed and sold my one-of-a-kind porcelain dolls at the New York Toy Fair, worked as the general manager of an aftermarket high performance automotive brake company, bellydanced, raised and sold dried flowers and rare herbs, been a gift buyer for a chain of natural grocery stores, owned a wearable art business, sold Avon, worked as a graphic designer for a political consulting firm, made and sold jewelry, worked in a liquor store, a meat-packing plant, a rare plant nursery and restaurants and flower shops too numerous to count.
How did the Romance Goddess come to be?
Is a Romance Goddess Born or Created?
A bit of both, I think...

SOME OF THE LIFE LESSONS ALONG THE WAY OF AN EMERGING ROMANCE GODDESS:


Figured out that I have WAY more to do with the amount of romance in my life than I had previously thought. I am a powerful creator!


Stopped chasing down and trying so hard to convince the "Mr. Rights" that I'm the best thing that ever happened to them, so they really should call ME for a change. I can love myself! When I love myself, people find me irresistible!


Stopped waiting for my men to magically read my mind. I can get clear about what I want, and ASK !!


Stopped waiting for and resenting them for NOT turning their froggy selves into Prince Charming. What I saw was what I GOT!


Stopped hoping that my Knight in Shining Armor would rescue me...From what?? MYSELF?
When I began to believe in my own power to create my life-I started getting results-Big Time!

When I stopped noticing everything that was WRONG with the loves in my life, and began to focus on what is RIGHT…Presto! Change-o! INSTANT ROMANCE GODDESS!!

Trust me, if I can be a Romance Goddess and live the life of my dreams, then so can you. What's stopping you?

Start creating your Life as a Honeymoon today!





---
TABLE OF CONTENTS
Romantic Ideas for Passionate Love Relationships and Personal Well-Being.
Romantic Moments that inspire, uplift and tickle your fancy. Sign up here for the Romantic Moments Ezine.
A delicious love relationship is one of life's profound pleasures.
True Romance; Romance that is absolutely true to the essence of who we are; Romance that pivots on a heartfelt naturalness of expression, rich with the unsullied innocence of a child.
Are you finding your passion? Passion is a critical ingredient to a life well-lived.
There is something very satisfying and very romantic about mutually shared romantic ideas.
Sweet, Sassy and Short Love Quotes get to the point!
Celebrate Love and Friendship with Love and Friendship Quotes.
Some of the Best I Love You Quotes on the Internet. Tell them I Love You with these I Love You Quotes.
We have Kiss Quotes to Make Them Weak in the Knees. Browse our love quotes that emphasize kissing.
Quotes for Love and Life Quotes for All of Us
A Wonderful Collection of Literary Quotes on Love
Ignite Passion Love Quotes with Flaming Heart and Soul
Shakespeare Love Quotes: Sometimes the Bard Says it Best!
What is Love? Love Quotes to answer the age old question.
Original Romantic Coupons: Print your own for FREE
A Love Slave Jar is a romantic idea for enhancing the fun and passion in the bedroom. (and beyond!)
Become one of those romantic couples that everyone envies. Watch your love relationship blossom!
Use these excerpts from famous love letters to inspire your own romantic creativity!
Romantic Love Letters to Copy and FREE Romantic Love Letter Ideas
In a romantic love relationship we can see our partner in many ways.
Is Codependency in Relationships Good or Bad? Find out Here.
The Meaning of Flowers is important when you are selecting the perfect sentiment to express your love.
I've always been a true romantic at heart. I hope you enjoy cavorting on this site and discover plenty of inspiration and ideas to TURN UP THE VOLUME on your romantic life!
The Story of My True Romance, complete with chocolate and men in kilts!
Let Romantic Ideas Online take you to new Romantic Places in Your Heart
Here is a sitemap to help you find your way around our ever-expanding site! Happy hunting!

Are you an Incurable Romantic? You can
link to this page
and start Sharing the Romance today!
---
---
SUBSCRIBE TO
Romantic Moments
A Periodic Ezine of Original Short and Romantic Vignettes