Genevieve Graham
by Genevieve Graham
(Halifax, Nova Scotia, Canada)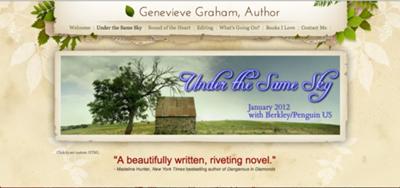 My debut novel, "Under the Same Sky" was published by Berkley/Penguin in January 2012. Think Historical / Paranormal Romance / Adventure ... intrigued?

***
The year is 1746. A young woman from South Carolina and a Scottish Highlander share an intimacy and devotion beyond their understanding.

They've known each other their entire lives.
They live a half-world apart.

And they have never met…

Maggie Johnson has been gifted with "the Sight" ever since she was a child. Her dreams bring her visions of the future and of a presence she knows is not a figment of her imagination. She calls him Wolf, having watched him grow from a careless young boy into a fearsome warrior, and she trusts him with her life and her heart.

Andrew MacDonnell is fascinated by the woman who has visited him in his dreams for as long as he can remember, entranced by her beauty, knowing deep in his soul that she is as real as he. Although he doesn't know who she is, Andrew believes that destiny will bring them together.

When tragedy and war strike their homelands, both Maggie and Andrew suffer indescribable losses. Separated across an ocean, the bond they share nevertheless grows as they sense each other's pain, lend each other strength, and embark on a journey of the spirit to find and love one another at long last…

***

My second novel, "Sound of the Heart" will also be published by Berkley/Penguin US. It will be out May 1 2012.

***

Dougal MacDonnell, a fierce warrior from the Highlands of Scotland, is able to hear the thoughts of other men and dream how the future will unfold.

Devastated by the loss of his family during the Battle of Culloden in 1746, he fosters a deep hatred for the English. But when Glenna, the love of his life and a Scottish outlaw, is captured and shipped overseas, Dougal is forced to join an English army made of vanquished Scots. Now fighting on the side of his sworn enemies, he embarks on a journey that will take him across the seas to the colonies.

There he will risk everything for the chance to find his true love.


Join in and write your own page! It's easy to do. How? Simply click here to return to Romance Author G.
---