Romance Stories
"Let love stories be the catalyst for a richer and more rewarding romance!"
When it comes to romantic love stories: Romantic lovemaking stories and romantic fantasies stories are just some of the types of hot romance stories that can ignite sensual romance for couples who share them.

Short romance stories, first kiss stories, and honeymoon stories can be romantic and inspirational. Personally, I prefer sensual stories and romantic short stories for my personal reading as well as reading together with D.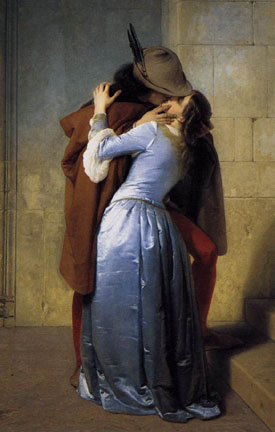 I can absolutely attest to the fact that reading erotic romance stories out loud to one another can really fan the flames!

I will be including free sensual stories on this site if there is enough interest from my visitors. I also hope you will contribute your own romantic stories that I will post on the site for everyone to enjoy. The more romantic inspiration, the better for all of us!

Romance stories are loved by practically everyone. What's there not to like about Passion and Drama and Happily Ever After? Sometimes, romantic love stories inspire us to create more romance in our own love relationships.

The romantic words, thoughts and romantic ideas set forth in the romance stories can kindle an imaginative train of thought that can lead to our own unique version of romance. We all have our personal vision of what we consider to be romantic.

For me it might be a bonny brae Scot with a kilt and melting chocolate brown eyes sweeping me off to his castle, for someone else it will be different. It's up to us to discover the glorious details that make our OWN hearts quiver and our loins ache.

Once we understand the scenarios that make us twitch, we can begin to invite them into our lives. Holding the thoughts and delicious scenes in our minds will actually pull the reality of them closer to us.


Romantic Art

Pre Raphaelite Art by Edward Burne-Jones and Joseph Noel Paton and the Impressionism Art Movement featuring Van Gogh paintings and Renoir prints. Browse our romantic painting and romantic artwork by Frederic Lord Leighton, Frank Cadogan Cowper, Jacques Louis David, Charles Courtney Curran, Herbert James Draper, Georges Seurat, Jean Honore Fragonard and MANY MANY MORE!

Romantic Love Poems

Writing sweet romantic love poems can be a challenge without the right tools and inspiration. Find free romantic love poems, relationship poems and short romantic love poems. Browse our romantic birthday poem collection, our wild sensual poems (personal favorite!) , wedding anniversary verses and classic romantic poetry. FIND OUT MORE!.

Romantic Love Songs

Look no further for your favorite romantic love song lyrics. From L-O-V-E to Yes Sir, That's My Baby to I'd Rather Go Blind and It's a Heartache, they're all here. We've got Reunited-Peaches and Herb, Michelle-The Beatles, The Rose-Bette Midler and Bonnie Tyler's Total Eclipse of the Heart AND SO MUCH MORE...Listen to sound clips too!
FIND OUT MORE
Reading romantic stories is a perfect way to keep the romantic pictures vivid and fresh in our imaginations. Remember, Life CAN be a honeymoon!
After we understand our own romantic proclivities, we can begin to figure out what romantic scenarios are effective for our mates. Asking them may seem to be an obvious solution and some people find it very easy to describe in full glorious detail their wants and wishes. Others may find it difficult to put their thoughts into words and challenging or even embarrassing to explain.
Reading romantic love stories together and sharing our thoughts about them is a great method for getting clear about what each of us finds romantic.
In romantic love stories, we can learn about romantic things to do and discover romantic places we can visit. We can put ourselves in the main character's shoes and imagine the whole thing from the safety of our own minds before we act anything out ourselves.

I hope this has helped you to see the amazing value of romantic love stories to both deepen and heighten your romantic repertoire.


Have a Romantic Story to Share?
Do you have a great romantic story to tell? (10,000 character limit) Something that really happened or perhaps a story you have written? We want to read your Romance Story!

It's another way to find romantic inspiration and juicy ideas to create more romance in our lives!

If your story is longer than 10,000 characters, please contact me directly.
https://www.romantic-ideas-online.com/contact-romantic-ideas-online.html
Other Romance Stories
Click below to see contributions from other visitors to this page...




Romance movies are another pleasurable and effective way to learn about our partner's romance preferences. I find romantic films particularly useful for setting a romantic tone. Getting "in the mood" made easy!



---