Avid Gardener
My husband is an avid gardener, let's face it, he's obsessed! He grows all our own organic vegetables, herbs and lots of flowers. People tell us our place looks like a park or a nursery!

During the Spring and Summer I feel like I hardly ever see him because after work and on weekends, he's out "playing in the dirt".

I'm not complaining--It gives me plenty of time to pursue my own passion (Which happens to be doll making).

The romantic idea I'd like to share is something that my husband never fails to do. Whenever he discovers a beautiful rose, the first gooseberry of the season, a perfect strawberry or sun kissed tomato, he comes into the house to find me and present me with the latest treasure and a kiss!

I adore such sweet interruptions and love that although he's out in the garden, he's still thinking about me! Now THAT'S Romantic.
Join in and write your own page! It's easy to do. How? Simply click here to return to Great Romance Ideas.
Sticky Note Doting
by Annie Hooper
(Silver Strand Beach, Ireland)
Write down things you like about your partner, each one on a different sticky note. When they aren't home, go through the house and make a trail of the notes on the walls or on the floor. At the end of the trail, take a seat on the floor with a piece of paper in your hand that says 'I ran out of paper, because I love everything about you.'
Join in and write your own page! It's easy to do. How? Simply click here to return to Great Romance Ideas.
Valentine's Day Expressions
I like to use ANY excuse to celebrate Romance. Valentine's Day is just another one! My fiance and I don't subscribe to the mass advertised version of romance, we just make up our own.

We like to find creative ways to express our love whenever possible. And after almost fifteen years together (I know, still not married yet! 2012 is our year!) we still manage to surprise and delight each other.

It helps to know what love language your beloved speaks. According to Gary Chapman, author of "The Five Love Languages" (and several other great books) everyone has their own preferred "language of love".

From his website:

Words of Affirmation
Actions don't always speak louder than words. If this is your love language, unsolicited compliments mean the world to you. Hearing the words, "I love you," are important—hearing the reasons behind that love sends your spirits skyward. Insults can leave you shattered and are not easily forgotten.

Quality Time
In the vernacular of Quality Time, nothing says, "I love you," like full, undivided attention. Being there for this type of person is critical, but really being there—with the TV off, fork and knife down, and all chores and tasks on standby—makes your significant other feel truly special and loved. Distractions, postponed dates, or the failure to listen can be especially hurtful.

Receiving Gifts
Don't mistake this love language for materialism; the receiver of gifts thrives on the love, thoughtfulness, and effort behind the gift. If you speak this language, the perfect gift or gesture shows that you are known, you are cared for, and you are prized above whatever was sacrificed to bring the gift to you. A missed birthday, anniversary, or a hasty, thoughtless gift would be disastrous—so would the absence of everyday gestures.

Acts of Service
Can vacuuming the floors really be an expression of love? Absolutely! Anything you do to ease the burden of responsibilities weighing on an "Acts of Service" person will speak volumes. The words he or she most want to hear: "Let me do that for you." Laziness, broken commitments, and making more work for them tell speakers of this language their feelings don't matter.

Physical Touch
This language isn't all about the bedroom. A person whose primary language is Physical Touch is, not surprisingly, very touchy. Hugs, pats on the back, holding hands, and thoughtful touches on the arm, shoulder, or face—they can all be ways to show excitement, concern, care, and love. Physical presence and accessibility are crucial, while neglect or abuse can be unforgivable and destructive.

When we choose to use the "love language" that speaks most eloquently to our Beloved, we flood our relationship with warm fuzzies, heartfelt moments and plenty of good old fashioned romance. Now THAT'S worth celebrating!

What's YOUR primary love language? What is your Sweetheart's?

Remember, Life Can Be a Honeymoon! Let's Start NOW!

In Joy,
Sara McGoodwin
Chief Executive Romance Goddess
Join in and write your own page! It's easy to do. How? Simply click here to return to Great Romance Ideas.
Dress yourself with newspaper
by Meenakshi Patra
(Bhubaneswar, Orissa, India)
We maintain a long distance relationship... He often keeps me asking over phone about what I am wearing... Sometimes, I say "leaf" or "paper" just to tease him. Whenever I say that, he says that he will chew off the paper. On his birthday, I planned something exciting.... We were out on a holiday for 2 days.... When he went to the bathroom for a shower, I covered myself completely with newspaper and stuck it with cello tape all over and kept waiting for him.When he came out of the bathroom, he forgot to shut his mouth... and what followed was amazing.... Try this some day.
Click here to read or post comments
Join in and write your own page! It's easy to do. How? Simply click here to return to Great Romance Ideas.
After speaking with the Author of these books.
by Author.M.E.Foster
(Georgia)
The fire was out. "We had been Married far too long!"
I sighed as we went to bed each night. Wishing for just One more night,
The way it used to be. Then this Lady descended and said, "Do not give up, Give it another chance, Try something, it's in your hands!"
Sara was right! I set the table, the meal was perfect and the wine was chilled to perfection. The only thing I lacked now was my Husband and lighting the Candle. It was One of the most Wonderful nights in almost 20 years. Thank you Sara ! From one friend to Another,
I will always remember you. If you need help Listen to her, She knows her stuff ladies..
Forever grateful in Georgia !
Join in and write your own page! It's easy to do. How? Simply click here to return to Great Romance Ideas.
5 Romantic Christmas Gift Ideas That Won't Break the Bank
Romance is a matter of the heart, not the wallet. That being said, the wallet has great purpose when helping to find gifts that warm the hearts of men and women. Gifts do not have to be expensive. Instead, it is the gift given from the heart that becomes a cherished heirloom over the item that simply carries a large price tag.

1) A cashmere sweater says romance when purchased by that special someone. Observe the recipient's taste in sweaters so buying the right neckline, sleeve and waist length is not difficult. Add dinner and a movie to the sweater for a romantic evening. Take a stroll on the beach leading to a table set with fruit, bread, cheese and wine.

2) Carefully chosen antiques and vintage items become romantic gifts when presented the right way. Have picture frames cleaned and insert a photo of the two of you. Fill vases with silk flowers that will last forever. Antique jewelry boxes can hold surprise rings (hint, hint), and vintage lipstick and mirror cases can be engraved with her name. Ebay, Craigslist and other online shops offer these items at far less than conventional antique stores.

3) A weekend getaway says it all. "I want to spend this special time with just you." If a friend has a cabin, ask to borrow it or barter for the weekend. Rent a cabin at an RV park resort, reserve a campsite in a national or state forest and rent an RV or travel trailer. A bed and breakfast is always romantic.

4) Handmade gifts are those given directly from the heart, and not expensive. Make him a custom-fitting shirt. Knit or crochet a scarf from mohair, cashmere or soft cotton. Men can make a scarf for her, or hire an artisan to make a silk scarf for her. Make matching scarves for both of you and proudly wear them in public.

5) Make a romantic dinner with all the favorites for appetizer, main course, breads, dessert and snacks. Find the recipient's favorite drink and pour it in delicate glasses purchased at the dollar store. Play his or her favorite DVD while lying on soft throws and pillows. The evening will be remembered forever. Add a small gift to top the evening off.

Romance does not need to be expensive. These ideas will not break the bank, in fact, they are affordable. Look for coupons when shopping for any item, even hotels and bed and breakfasts. For resorts, campgrounds and getaways, book off-season for discounts. Any time of year is perfect for a romantic gift for him or her.

About the Author

This article was written by Phill from Late Late Gifts US.

Visit Phil's Last Minute Gift website, Late Late Gifts

Join in and write your own page! It's easy to do. How? Simply click here to return to Great Romance Ideas.
Simple Pleasures
by Bonnie B.
(Tulsa, OK)
Sometimes, just a sweet walk in the falling leaves of Autumn or sharing a cozy cup of spiced cider by the fire can be so memorably romantic! That's what my husband and I do as often as possible to keep our love alive.

No need for a big fuss. Just remember to make shared moments count!
Join in and write your own page! It's easy to do. How? Simply click here to return to Great Romance Ideas.
How About a Love Padlock?
by Debbie
(Hurricane, Utah USA)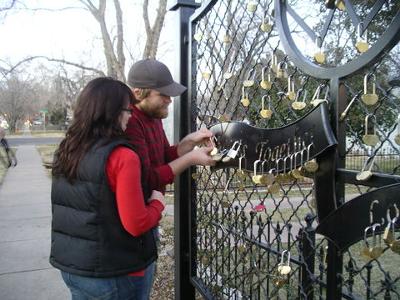 Date Night
It's easy to love somebody deeply—to have a lover, friend, or family member in your life that shapes your happiness—but it isn't always easy to let them know exactly what they mean to you. Lovelocks® commemorative custom engraved padlocks are a perfect way to show somebody just what they mean to you. Our artfully designed love padlocks are the perfect unique gift for any occasion. It's the perfect way of letting those significant to you understand just how special they really are. Following an ancient custom, you can "lock your love" to that person or those people important in your life. Engraving your own personal message on a Lovelocks® padlock is the ultimate way of saying "I love you" and solidifying those special relationships in your life. www.lovelocksonline.com
Join in and write your own page! It's easy to do. How? Simply click here to return to Great Romance Ideas.
Romantic Love Boat
by Jeanette S.
(USA)
My husband Rob and I live next to a little lake (large pond) and own a small rowboat. After dinner, when the weather is good, we almost always go for a boat ride around "the pond".

Sometimes we just chat and catch up on the days activities. Other times we "park" and watch the sunset. It is so peaceful to float around while spending "quality time" with Rob.

We always enjoy looking at our home from the vantage point of the lake. It is such a cozy place! And the coolest part of all is that Rob built it himself!

I am so blessed...


Click here to read or post comments
Join in and write your own page! It's easy to do. How? Simply click here to return to Great Romance Ideas.
Tiny Tricks!
by Maggie
(La Plata, MD)
If you ask any most girl she'll tell you that one of the keys to making romance work in a relationship is spontaneity. However, not everyone has the resources or the wits to spring a romantic trip for two to the Netherlands, or the money to stage a boat ride on the Riviera. But there are ways to keep your partner on their toes and always excited to see you.

-Instead of your regular peck on the cheek when your partner comes home from work, surprise them with something fiery and long. Take their face in your hands. Make the kiss sensual. Start from the lips and work your way down to the chest. Nibble on them, Run your fingers through their hair. It's all about the feeling...

-If you are at a party or small get together- even if you're hosting it, if your significant other is there, sneak them into a room, a closet, the porch, and have a quick, mind-bending snog-session. Even if the party is at your own home, disappear for a minute or two. Only do it once, maybe twice, and save anything major for after the last guest is gone.

-Turn chores into charged! Do the washing up together- turn on some music and dance with your partner. Hold them and nibble on their ear or neck while they do the dishes. Bury yourselves in a pile of clothes while you're trying to do the laundry. While you sweep keep "accidentally" bumping into them while you do it. If you're cooking- use the food around you to your advantage (especially if its desert)!

-If you're driving- on holiday or simply to the supermarket, pull over when your partner least expects it- somewhere safe like a rest area, or wait until you're at the car park. Simply sit for a moment or two and kiss them, hold them, or heat it up. Keep it tasteful, but kiss them like no one can see you.

-If you're at a club or restaurant where live music is played- go on! Request a song in your partner's honor. Sing along and dance with them. Confidence is key and an attractive quality! When you're at home- if they're in the shower- sneak in with a stereo and hairbrush. Serenade them. Or go all the way- and sing outside their window one night when you know they can hear it, and invite your friends along if they play an instrument.

-Slip little love notes into the book they're reading, their lunch bag if they bring one to work, or their purse or other carryall. Once a day call or text to remind them you love them, to ask how they're doing, and tell them you're proud of a recent accomplishment or a project they've been working on. Once in a while call simply to whisper something naughty in their ear, or text an excerpt from a romance novel they might be fond of.

-Just once- for no reason at all- send them a gift that you know they'll love- flowers, a new comic book, or even a ticket to an event they're dying to see. Have them receive it at work, or through the mail.

-If you know that their day has been stressful- you've called them while they're at work and they haven't been in a good mood, or they went to work with a cold- if it is possible, drop by for only a minute or two with a single flower, a new cd for the car-ride home, or even just a hug and kiss. Let them know that they mean so much to you that their pain was something you didn't feel right about. If they're stuck at home for the day, come home early just to spend time with them.

-Pick a film your partner wants to watch. Choose for yourself a word (don't tell them), and every time it's said lean over and kiss them. If it is a romance, kiss them the exact moment of the big climactic scene- memorize the monologue before it and whisper it to them as the movie plays.

-For one Halloween, dress up like a character your partner has a "crush" on, or has always thought sexy. If they have an accent try and recreate it.
Click here to read or post comments
Join in and write your own page! It's easy to do. How? Simply click here to return to Great Romance Ideas.
Romantic Activities on a Budget
by Phill
(UK)
Everyone loves a great date. After all, what's nicer than a romantic dinner out, special concert or tickets to a one-of-a-kind event? But those activities can get expensive. In this day and age, when many people are trying to stretch their dollars as much as possible, romantic date ideas can sound of financial reach. But don't give up. There are some great romantic activities you and your sweetheart can enjoy on a budget--without breaking the bank.

Outdoor Activities

* Go on a picnic. Eating outdoors on a sunny, warm day is always fun, and doing it with someone special elevates a picnic to date status. Picnics are economical but romantic. Pack a basket with basic meal ingredients or snacks, grab a blanket to sit on and find a nearby park or beach.

* Try an inexpensive sport. Outdoor ice rinks, walking trails and bike paths are typically free to use, and perfect for a couple who wants to spend time together in the fresh air. Find your skates, bikes or walking shoes and enjoy a romantic, active afternoon.

* Visit a romantic tourist spot. Do you have a scenic mountain, beautiful waterfall or picturesque river bridge nearby? There's nothing more romantic than a stroll with a lovely view. Best of all, taking in the view with someone you love is completely free.

Indoor Dates

* Try a free museum. Many art galleries and museums are free or at least offer free or reduced-fee days. For an artsy indoor date, check out your city's local museum scene without going over your budget.

* Keep an eye out for restaurant coupons/vouchers. Fancy restaurant meals can get expensive, yet a nice dinner is a welcome date for most couples. Luckily, many dining spots offer periodic coupons and vouchers that can make the bill far less costly.

* Look for unconventional ways to hear music. Many coffeehouses, bars and galleries feature local musicians on certain days or evenings. While you'll need to pay for your drink or other items, you'll be able to enjoy complementary live music while you sip your drink--a romantic, on-budget, simple way to spend time with that important person in your life.

Romantic activities don't have to break the bank or empty your wallet. With a little creativity and ingenuity, you can easily fill your date calendar without spending too much money. Knowing that you're staying within your budget will make those romantic dates all the more enjoyable.

About the Author

This article was written by Phill representing http://www.freestuff.co.uk - with all the latest free stuff, competitions, samples and more.
Join in and write your own page! It's easy to do. How? Simply click here to return to Great Romance Ideas.
Moonlit Walks.
by SteveP
(Northern Michigan)
When we were dating, the woman who married me and I often took walks. We still do. One cool summer night, my love and I took a moonlit hike and wound up among fire flies.I pulled her close and we began to slow dance with them.

It's become something we look forward to each year. Last year we hiked along a cedar swamp where the community has installed board walks. While dancing, I sang "Moondance" and "Dream a Little Dream of Me". Though there is much wildlife in our area (including cougars and bears..I'm more afraid of skunks) She felt safe in my arms.

The intimacy that happened later was out of this world!

Join in and write your own page! It's easy to do. How? Simply click here to return to Great Romance Ideas.
Romance Tip: Never Go to Bed Angry
by Janet
(Iowa)
If my husband and I have argued or are upset with one another, we agree to go to bed together naked. After that, if we are still mad at each other we can talk about it further, the next day. Most times we realize that what we were upset about was not SO important and we make-up. That is the key: Discuss the important issues and let the rest GO.
Click here to read or post comments
Join in and write your own page! It's easy to do. How? Simply click here to return to Great Romance Ideas.
---