MORE Romantic Ideas for Couples to Share
42. Here is one of the romantic ideas that virtually ANYONE would enjoy! Have a Home Spa Day or Evening. Create the spa atmosphere with big fluffy towels and robes, soothing aromatherapy bath salts or fragrant shower scrubs, scented beeswax candles, therapeutic essential oils, romantic mood music and other relaxation products.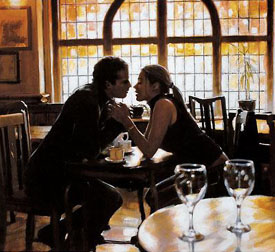 43. Go to a local coffee shop and "hang out". Hold hands while you chat and sip. Make up funny long drink names (Triple Tall Half Caf 180 degree Americano with Steamed Heavy Whip and one pump of chocolate)

44. Mothers and Mother-in-Laws like this romantic idea if you are willing to share... Frame and display lots of your favorite "couple" pictures of the two of you. (This is useful feng shui for relationships.)

45. Have a separate calendar for your romantic date ideas and plans. Choose one with romance as the theme. Record lots of details on the calendar of what you did as well as future plans. Save it as a romantic keepsake when the year is through.

46. Use a blue, green or red light bulb in place of your usual white lighting in the bedroom for something a little different. (Romantic Ideas for Color Therapy)

47. Meet your sweetheart at the mall. Armed with $10.00 each and an agreed upon meeting time and place, (don't make it too long!) split up and find a romantic or seductive item to enhance your romantic evening.

48. For one of the truly Immortal Romantic Ideas :get in the habit of taking your camera with you when you go on special romantic dates. Ask someone to take a picture of the two of you together. Oftentimes you can reciprocate by taking their picture for them.

49. Go wine tasting at one (or more) of your local wineries. Bonus Romantic Idea: Remember to buy a few bottles for enjoying and reminiscing on a future romantic date.

50. Purchase two disposable cameras. Take pictures of each other in silly, serious, loving and romantic poses. Pretend that you are famous models and photographers. Develop them at a one hour photo place and giggle over them while enjoying a glass of wine or dessert.

51. Rent a silly DVD that you have seen before. Watch it in French.

52. Tell your lover all the naughty things you want to do to and with them, but tell them in gibberish and see if they can figure it out! (Some sign language might be helpful here…)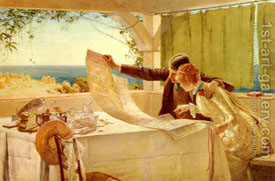 53. Plan a romantic trip together. Do the research, compare and shop around. Half the fun is in the planning!

54. Get a book and go bird-watching together. Learning about your local birds can be fun. Practice imitating their calls.

55. A Romantic Idea for the Adventuresome: Drive to a nearby town. Explore it on foot, walking hand-in-hand with your beloved. Check out the sights and shops. Enjoy a restaurant meal. Order the "Special of the Day".

56. Plan a picnic on the night of a full moon on a golf course or other wide open spot. A Very Romantic Idea!

57. Plan a midnight date on a sultry summer night. Remember a thick cotton blanket to sit or lie on and a cooler filled with ice cold drinks. Bring along some romantic music if you want to try some Dancing in The Dark.

58. A fun romantic idea: Get a croquet set or some horseshoes. Playing outdoor games together is a fun way to spend time together. Lawn bowling? Shuffleboard? Badminton? Watch the birdie!

59. Keep plenty of tea, hot chocolate, popcorn and snacks around in the winter time for when you want to snuggle up together.

60. To save money on a romantic dinner date, try eating the meal at home and going out for the dessert at a fancy restaurant. Remember to dress up!

61. With your partner, decorate a box or jar with hearts and romantic pictures. Make a habit of throwing your loose change and small bills into it. When enough money accumulates, go on a special romantic date or save it up for a weekend getaway.

62. Enjoy your chiminea, fire pit or patio stove in the early spring or late fall for a cozy "cuddlefest".

63. Spooky Romantic Ideas: On Halloween, carve "his and her" pumpkins. Dress up to match each other's costumes: Bonnie & Clyde, Biker Dude & Biker Mama, Guenivere & Lancelot, Santa & Mrs. Claus, Tweedle Dum and Tweedle Dee.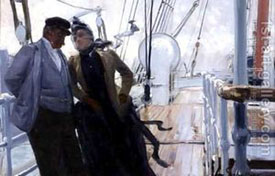 64. Take a boat ride. Whether it be a row boat, a sailboat or a yacht, there is something very romantic about being out on the water with your beloved.

65. This may not seem like a romantic idea, but it is! Make a point of getting healthier together. Walk and/or exercise together; find something you both enjoy doing; dancing is fun couple exercise! Try new, healthier recipes together. Plan meals and shop together for more healthy foods.

66. Make a plan to spend an entire day (or weekend!) in bed. Have lots of snack foods, sex toys, beverages, reading material, massage lotion or massage oil, a deck of playing cards, games and DVDs. Try wearing only your vivid imaginations. Have fun!

67. Buy each other real silk pajamas. Model them for each other.Ooo-la-la!

68. A Useful and Romantic Idea: Develop hand signs and gestures that just the two of you will understand. Use them to have secret communications in public. They can mean anything: "I Love You Madly", "Meet me in the Garage", "You have Spinach in your Teeth", "I Want to Tie You up and Spank you with a Feather".

69. Select a book that you both want to read and read it out loud to each other taking turns. A book of romantic short stories can be read by alternating chapters.

70. Romantic Ideas 101: Rent and enjoy watching a romantic movie together often. Whether it's a bonafide "chick-flick" or an adventure or comedy that includes romance or even something that steams up the windows, it's ALL good. Variety. Spicy. Nice.

71. Develop your own traditions and unique rituals to celebrate your special days. (Romantic Ritual Ideas)

72. One of the best romantic ideas!! Laugh with your sweetheart at EVERY opportunity, even for NO reason! Unconditional Laughter is good for your health and magic for your relationship! (Laughter Yoga)

73. Play Sexy Truth or Dare with a twist. You get to choose to answer a personal question about sex or perform a sexy "task". Let your imaginations Go Wild with this romantic idea!

74. Spend the day with your sweetie having a Public Transport Adventure. Take buses, trams, trains and streetcars all around your town or city. Or take a commuter train somewhere you've never been. Purchasing a pass may make it more economical. Either plan your route out in advance or follow your whims. Visit the sights or just cruise to the end of the line. Pack a picnic or get off and try a new restaurant.
75. Have a Millionaire Day with your beloved. Wearing your most expensive clothes, park your car well down the street and test drive a Ferrari or Mercedes. Go to expensive shops and try on clothes and jewelry. Have a realtor show you some houses. Finish the day with dessert and coffee at a really swanky place. The Universe smiles approvingly on us practicing for abundance!

76. Rent or buy roller skates and take your partner for a spin.

77. Go ice skating on a frozen lake (if you can find one). Be sure to remember the thermos of hot chocolate.

78. Go on a helicopter tour of your area with your darling. If the pilot is willing, visit your neighborhood and other romantic landmarks of your relationship. If you can get them from home and all the way to the helicopter blindfolded, then so much the better! Don't forget the wine!

79. This is a favorite romantic idea to use when you find yourself in Central Park in New York City. When you are in any city that has horse-drawn carriages or hansom cabs, be sure to take advantage of this classic romantic outing. It is especially romantic at night when you can enjoy the sparkling city lights, and in winter when you can snuggle together under a cozy lap robe. Sip on some brandy or port.

80. In the country, take a hayride! Take two blankets with you; one to lie on and one to cover you. Bring a little bottle of schnapps or a wee dram of scotch to warm your cockles.

81. An exceedingly romantic idea and you don't even have to leave home! Set up your bedroom or your living room with dozens and dozens of candles. Spread a blanket out on the floor or a sheepskin if you have one and lots of soft cushions and pillows. Have the candles lit when your mate arrives home and a romantic movie or romantic music cued up and ready to go. If you have a fireplace, have the fire roaring. A bottle of bubbly on ice, crackers and caviar or a loaf of bread, a hunk of cheese and a nice bottle of red wine and you're off to the races!

82. Put a jigsaw together with your love on a rainy afternoon or a snowy night. Choose a puzzle with a romantic picture on it and don't forget the gourmet hot chocolate.

83. Browse recipes online or cookbooks at a bookstore or the library. Make plans for preparing a meal or a special food treat. The romantic part is sharing the planning, shopping and cooking. Make it even more romantic by selecting romantic recipes to make (and eat!) together..
84. Have your portrait painted or photographed. Having a romantic painting or photograph of the two of you is a treasure indeed. A perfect way to capture romantic moments and memories.

85. Shop on the internet together. Buy something romantic. Visit sites you don't ordinarily make time for. Bookmark your favorites in a folder named, "Our Favorite Romantic Sites". It's a good way to plan a romantic vacation or trip and to "browse" for romantic gifts. You can always sneak back later to purchase that perfect gift for your beloved!

86. Go see some Community Theater or a High School or College production or concert; a fun and often economical romantic date idea.

87. Here is a creative romance idea: Purchase a nice blank book or scrapbook. Write your love story in it. Record all of the glorious details of your romance. Include when and how you met, when you fell in love, highlights of places you've visited, how you felt at different times, "in jokes" and amusing anecdotes. Add to "your story" every so often as more delicious events unfold. This will be a treasure for you to peruse in years to come.

88. Watch a sporting event together. Take me out to the ballgame or the skate park or the stadium. Whether its extreme sports or the old alma mater, remember to cheer and have a rollicking good time!

89. On a snowy winter day in the mountains, rent snowshoes or cross-country skis. Follow a trail into the quiet of the woods. Listen to the snow melting and falling from the trees. Smell the cold fresh scent of winter. Be dazzled by the sun and each other. Go back to the lodge for hot mulled wine or apple cider.

90. Have a picnic in your bedroom. Gather your supplies: red and white checked tablecloth, scented beeswax candles, and a picnic basket packed with your favorite picnic goodies: Peanut butter and jelly sandwiches and milk--or-a loaf of bread, a hunk of cheese and a good bottle of red wine-or- salami, pickles, cheese, olives, crackers and cold beer-or-champagne and chocolate-covered strawberries. Fresh flowers are a nice touch but no ants allowed!

91. Go Backpacking. Pack up your knapsack get up into them thar hills! Whether it's a weekend or a week, trekking in the wilderness with your sweetheart can be a special romantic adventure you will never forget.

92. Go Horseback-riding. Trail riding or horse-back-packing is a great way to enjoy the outdoors with your mate. Pretend it is the Wild West.



---
TABLE OF CONTENTS
Romantic Ideas for Passionate Love Relationships and Personal Well-Being.
Romantic Moments that inspire, uplift and tickle your fancy. Sign up here for the Romantic Moments Ezine.
A delicious love relationship is one of life's profound pleasures.
True Romance; Romance that is absolutely true to the essence of who we are; Romance that pivots on a heartfelt naturalness of expression, rich with the unsullied innocence of a child.
Are you finding your passion? Passion is a critical ingredient to a life well-lived.
There is something very satisfying and very romantic about mutually shared romantic ideas.
Sweet, Sassy and Short Love Quotes get to the point!
Celebrate Love and Friendship with Love and Friendship Quotes.
Some of the Best I Love You Quotes on the Internet. Tell them I Love You with these I Love You Quotes.
We have Kiss Quotes to Make Them Weak in the Knees. Browse our love quotes that emphasize kissing.
Quotes for Love and Life Quotes for All of Us
A Wonderful Collection of Literary Quotes on Love
Ignite Passion Love Quotes with Flaming Heart and Soul
Shakespeare Love Quotes: Sometimes the Bard Says it Best!
What is Love? Love Quotes to answer the age old question.
Original Romantic Coupons: Print your own for FREE
A Love Slave Jar is a romantic idea for enhancing the fun and passion in the bedroom. (and beyond!)
Become one of those romantic couples that everyone envies. Watch your love relationship blossom!
Use these excerpts from famous love letters to inspire your own romantic creativity!
Romantic Love Letters to Copy and FREE Romantic Love Letter Ideas
In a romantic love relationship we can see our partner in many ways.
Is Codependency in Relationships Good or Bad? Find out Here.
The Meaning of Flowers is important when you are selecting the perfect sentiment to express your love.
I've always been a true romantic at heart. I hope you enjoy cavorting on this site and discover plenty of inspiration and ideas to TURN UP THE VOLUME on your romantic life!
The Story of My True Romance, complete with chocolate and men in kilts!
Let Romantic Ideas Online take you to new Romantic Places in Your Heart
Here is a sitemap to help you find your way around our ever-expanding site! Happy hunting!