92 Romantic Ideas for Couples to Share
Have a look at Michael Webb's useful eBook "1000 Questions for Couples". You can test your compatibility and grow deeper in love. Handy for those dating, married or even in a long distance relationship. It's worth a peek!

I believe there is something very satisfying and romantic about mutually shared romantic ideas. Planning and enjoying an event together can bring you closer together as a couple. It is also a good way to get clear about your partner's likes and dislikes for when you might want to treat them to a romantic surprise or special occasion.


1. Go on a picnic. Packing up a basket of goodies and traipsing off to view a sunset or a great view is one of the classic romantic ideas. Lousy weather? Not to worry! Spread a blanket or classic red and white checkered tablecloth on the floor of your home and enjoy the Great Indoors! Other Romantic Picnic Ideas.

2. Watch romantic movies while cuddling. Popcorn optional.

3. Watch shooting stars and meteor showers. Stargazing is always very romantic idea. Maybe it's all of those "starry-eyed" looks between the "star-crossed" lovers. Bring along a bottle of wine or sparkling water to share. Romantic Snack Ideas

4. Take a scented romantic bath together. This is perhaps my all-time favorite of all romantic ideas. Relaxing together in a scented cocoon of fragrant water can't help but enhance the romance in your love relationship. More romantic bath ideas.

5. Make a scrapbook filled with photographs and mementos like ticket stubs, programs from events and brochures from places you've visited. Include a few romantic love notes that you've exchanged in your life together. It will be a keepsake that you will treasure forever. If you really get into this, make one each year as part of celebrating your wedding anniversary.

6. Go to a carnival or County Fair and ride the ferris wheel, eat cotton candy and walk through the fun-house. If they have a "Tunnel of Love", don't miss it!

7. Create a Love Slave Jar.

8. Feed each other grapes, blueberries or raspberries. Toss them into each other's mouths if you dare and your couch isn't white.

9. Paint each other with soap body paint. Do this in the shower or bath. Slip and slide. Rinse. Repeat.

10. Rent a houseboat and spend a romantic weekend on the water.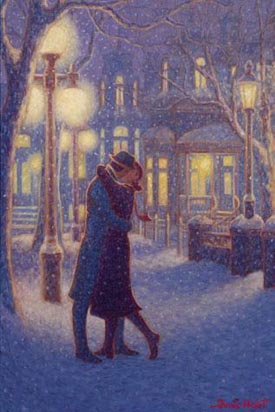 11. Here's a romantic idea for the Holidaze: Hold hands and go window shopping or walk somewhere with lots of pretty lights. Christmas time is great for this. Kiss under the mistletoe. Resist the urge to purchase things but notice carefully what your love is interested in. You can sneak back later while they're decorating the tree or recovering from too much eggnog. (Hey! It happens…)

12. Prepare a feast. Using only your hands, eat slowly while gazing into each other's eyes (a la the movie Tom Jones) Devour your love with your eyes. Feed each other.

13. Share your food with your beloved when you eat out in a restaurant.

14. Always celebrate the anniversary of the day you met. If someone you know introduced you, send them a "thank you" note every year on the day. Find other "anniversaries" to celebrate.

15. Take a shower or romantic bath by candlelight. Use a luffa or big sea sponge to scrub each other's backs.

16. Get a good strong rope about 30 feet long or so. Tie a big knot in it. Cut a piece of sturdy plywood into a butt-sized circle with a hole in the center big enough to thread the rope through. Go on a hike until you find a tree with a hanging out branch way up high. Throw the end of the rope over the branch and tie off securely. Take turns on your new rope swing. Leave it there for others to find and visit it again some day.

17. WARNING! Tasty Romantic Idea but STICKY: Make love with chocolate syrup, honey and or whipped cream on selected body parts.

18. WARNING! Yummy Romantic Idea but STICKY: Mix up lots and LOTS of Jello. Put it in your bathtub until firm. Jump in with your partner. Slip and slide. WooHoo!

19. Plant a garden with your sweetheart. From browsing the seed catalogues or nursery aisles to preparing the soil and planting: nurture it and watch it grow along with your love.

20. Go see an art exhibit or museum show together. Keep up with traveling exhibits and other special events that come through your town. Make them into romantic excursions.
21. Hire a "bicycle built for two" and go for a ride. (Daisy, Daisy...)

22. A Very Romantic Idea! Go for a hot air balloon ride. Don't forget the Mimosas! (Equal parts Champagne and Orange Juice)

23. Bake something together. Romantic recipes.

24. Organize a dinner party together for close friends. Plan, shop, cook and host it together as a team.

25. If it's been a while, why not renew your vows? Revisiting your commitment to one another is a sweetly romantic idea.

26. Go bowling or shoot some pool. Play darts or backgammon at a pub.

27. When you go through the automatic carwash together, pretend it is the Tunnel of Love. Make Out!

28. Splurge on an overnight stay in a five star hotel in your town. The money you save on transportation costs can be put to good use in spa treatments, room service and decadent treats. Such a sensible romantic idea!

29. Book a night in a seedy motel on the outskirts of town. Pretend you are having an illicit affair. Order Chinese take-out and BYOB.

30. When staying at a lake front or beach resort, sneak out at night with your mate and go skinny dipping.

31. Take dance lessons together. Choose a style of dance that is appealing to both of you. Practice frequently and get as good as you can be. This is not only great fun but it is also Great Exercise! Be the couple that everyone stops for and stands back to watch.
32. Go out dancing. Spend the evening dancing. Be it ballroom, salsa, swing, disco, jazz or blues- Follow the music and dance to your dreams!

33. Look at the stars through a telescope. See how fake Saturn looks. Tell each other your secret wishes.

34. Go with the flow. Have a spontaneous romantic evening. Don't have anything preplanned except to spend time together. See where the wind takes you.

35. Take a sauna or a steam bath together. Pour a bucket of cool water over your partner. Feels great!

36. Go to a nude beach together.

37. Collect meaningful trinkets, love notes and letters and other nostalgic memorabilia from your relationship. Bury it in a "Time Capsule". Remember to make a map to store in your safe or safety deposit box. Date the map and agree on a date in the future when you will dig up your romantic treasure box.

38. Burn a CD of your favorite "couple" songs. They can be romantic love songs or any music that you both like. Keep it handy for playing during especially romantic times.

39. Always stop at those photo booths in malls to take some fun pictures with your sweetheart. Tuck them around here and there for an instant giggle.

40. Plant a tree with your beloved. Make a plan to carve your initials in it when it gets big. Plant it near a place where you can enjoy a picnic, a sunset or cloud or stargazing.

41. Name a star together. Know that even when you are apart, you can both always gaze at "your" star and think of one another. (Somewhere Out There)





---
TABLE OF CONTENTS
Romantic Ideas for Passionate Love Relationships and Personal Well-Being.
Romantic Moments that inspire, uplift and tickle your fancy. Sign up here for the Romantic Moments Ezine.
A delicious love relationship is one of life's profound pleasures.
True Romance; Romance that is absolutely true to the essence of who we are; Romance that pivots on a heartfelt naturalness of expression, rich with the unsullied innocence of a child.
Are you finding your passion? Passion is a critical ingredient to a life well-lived.
There is something very satisfying and very romantic about mutually shared romantic ideas.
Sweet, Sassy and Short Love Quotes get to the point!
Celebrate Love and Friendship with Love and Friendship Quotes.
Some of the Best I Love You Quotes on the Internet. Tell them I Love You with these I Love You Quotes.
We have Kiss Quotes to Make Them Weak in the Knees. Browse our love quotes that emphasize kissing.
Quotes for Love and Life Quotes for All of Us
A Wonderful Collection of Literary Quotes on Love
Ignite Passion Love Quotes with Flaming Heart and Soul
Shakespeare Love Quotes: Sometimes the Bard Says it Best!
What is Love? Love Quotes to answer the age old question.
Original Romantic Coupons: Print your own for FREE
A Love Slave Jar is a romantic idea for enhancing the fun and passion in the bedroom. (and beyond!)
Become one of those romantic couples that everyone envies. Watch your love relationship blossom!
Use these excerpts from famous love letters to inspire your own romantic creativity!
Romantic Love Letters to Copy and FREE Romantic Love Letter Ideas
In a romantic love relationship we can see our partner in many ways.
Is Codependency in Relationships Good or Bad? Find out Here.
The Meaning of Flowers is important when you are selecting the perfect sentiment to express your love.
I've always been a true romantic at heart. I hope you enjoy cavorting on this site and discover plenty of inspiration and ideas to TURN UP THE VOLUME on your romantic life!
The Story of My True Romance, complete with chocolate and men in kilts!
Let Romantic Ideas Online take you to new Romantic Places in Your Heart
Here is a sitemap to help you find your way around our ever-expanding site! Happy hunting!